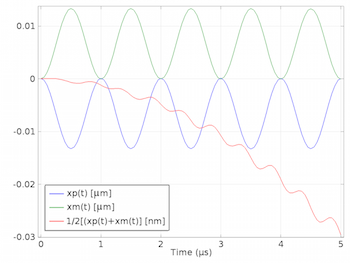 In an earlier blog post, we considered the computation of acoustic radiation force using a perturbation approach. This method has the advantage of being both robust and fast; however, it relies heavily on the theoretical evaluation of correct perturbation terms. The idea behind the method presented here is to solve the problem by deducing the radiation force from the solution of the full nonlinear set of Navier-Stokes equations, interacting with a solid, elastic microparticle.
Read more
---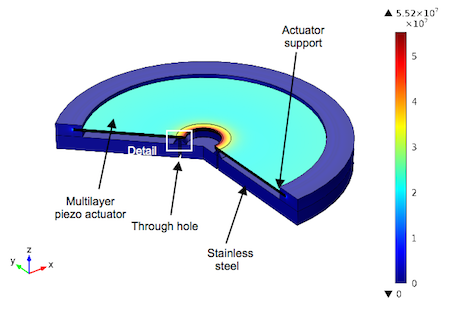 Piezoelectric valves are opened and closed by stacked piezoelectric actuators that are positioned above a seal. By applying a voltage to the stacked piezoelectric actuator, it can be made to expand or contract and the resulting deformation is used to open and close the valve. In this blog post, we feature a tutorial model of a stacked piezoelectric actuator in a pneumatic valve, new with COMSOL Multiphysics version 5.1.
Read more
---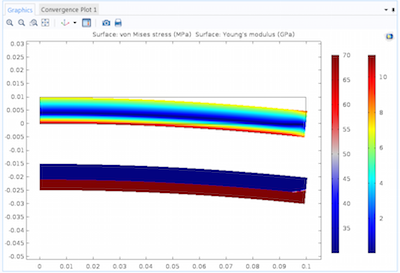 In Part 1 of this blog series, we discussed some of the considerations that you need to make when transforming your measured material data into a constitutive model. Hyperelastic materials were discussed in some detail. Today, we will have a look at how to use nonlinear elastic and elastoplastic materials, and show one way in which you can use your measured data directly in COMSOL Multiphysics.
Read more
---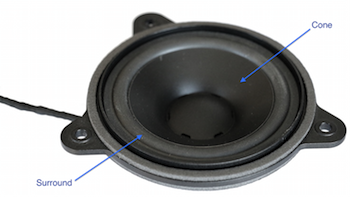 Today we welcome guest blogger René Christensen from Dynaudio A/S. When evaluating loudspeaker performance, dips and/or peaks in the on-axis sound pressure level can be a result of an unfortunate distribution of phase components. To overcome this, we use a phase decomposition technique that splits a total surface vibration into three components depending on how they contribute to the sound pressure in an arbitrary observation point; either adding to, subtracting from, or not contributing to the pressure.
Read more
---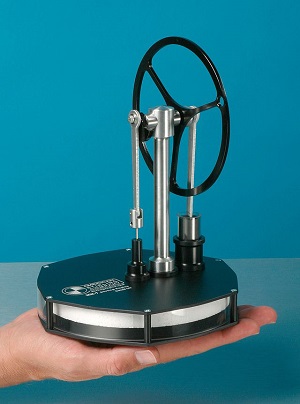 Stirling engines, or heat pumps, are systems that are able to work on incredibly low temperature differences. In fact, some types of Stirling engines only need human body heat in order to operate. Here, we explore the dynamics of this interesting machine that you can build at home and demonstrate how to model it using COMSOL Multiphysics.
Read more
---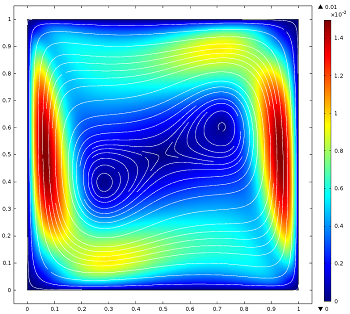 Today, we compare the Boussinesq approximation to the full Navier-Stokes equations for a natural convection problem. We also show you how to implement the Boussinesq approximation in COMSOL Multiphysics software and discuss potential benefits of doing so.
Read more
---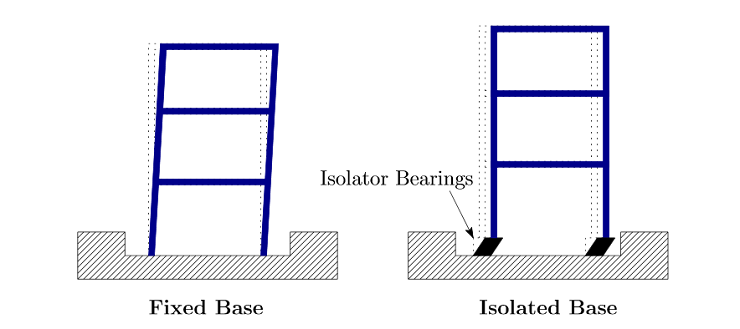 When an earthquake strikes, the force from its seismic waves can weaken the stability of buildings. By implementing seismic control measures, designers can enhance the flexibility of such structures as well as strengthen their safety levels. See how one research team used COMSOL Multiphysics to study the impact of base isolation systems and explore approaches to optimizing their performance.
Read more
---
Over half a century ago, Mark Kac gave an interesting lecture on a question that he had heard from Professor Bochner ten years earlier: "Can one hear the shape of a drum?" He focused on the (then undetermined) uniqueness of the set of eigenvalues given the shape of a vibrating membrane. The eigenvalue problem has since been solved and here we explore the "hearing" part of the question by considering some interesting physical effects.
Read more
---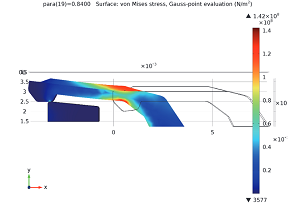 Commonly used in the automotive industry, snap hooks are a type of fastener that involve the insertion of a hook into a slot. When designing snap hooks, it is important to analyze the forces required for the insertion of the hook as well as its removal. We can address this through simulation.
Read more
---

Lightweight and portable washing machines are great to use in situations where you do not have access to traditional washing machines. Yet problems may occur when a varied distribution of clothing causes walking instability in these machines. We tested for walking instability during the spin cycle of a portable washing machine and used an active balancing method in an attempt to remove this instability.
Read more
---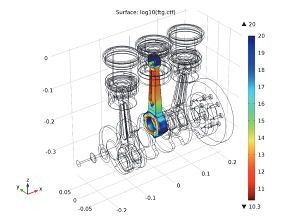 Reciprocating engines are used extensively for power generation in a variety of applications, most notably within the automobile industry. In the design process, it is important to ensure that all of the engine's parts can withstand high stresses and loads in order to maximize the operational lifetime. Here, we analyze fatigue in an engine's connecting rods.
Read more
---
Get new posts by email
---
Categories
---
Tags