Milan Conference Best Paper Winner Presents an Interesting Discovery
The "Gonzaga Room" at the COMSOL Conference in Milan was a pleasant setting for an interesting presentation. There, I saw Dejan Grabovickic present his paper titled: "Analysis of Super Imaging Properties of Spherical Geodesic Waveguide Using COMSOL Multiphysics". His waveguide consisted of two copper spheres about the size of a soccer ball, one inside the other and separated by a very thin gap. I'm happy I attended this particular presentation, as it would later receive one of the Milan Conference Best Paper awards.
By shooting a laser into the waveguide and then allowing it to leave at different points around the sphere, Grabovickic and his co-authors (Gonzalez, Benitez and Minano from Cedint Polytech in Madrid, Spain) showed they could generate "super imaging" or images smaller than the wavelength of light. When asked what the practical implications of this discovery were, Grabovickic replied that such devices could lead to lithography tenths and hundredths of sizes smaller than what are currently possible.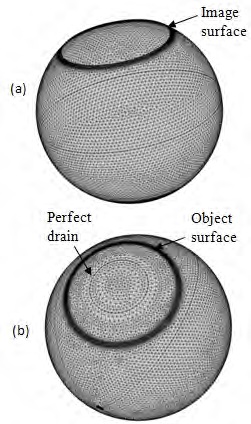 Mesh structure at the object and image sides of the Spherical Geodesic Waveguide.
Milan's Three Best Paper Winners
Grabovickic was presented with one of the prizes for Best Paper at the Awards Dinner on the second evening in Milan, along with two other Best Paper winners. One of these was Marcel Bachmann and his group from the BAM Federal Institute for Materials Research and Testing in Germany. Their paper concerned the welding of aluminum as performed using high-powered laser beams. In particular it looked at the flow of weld pools due to Marangoni and natural convection, and how this is in turn was affected by the magnetic-influenced braking effects through Lorentz forces.
The third winning paper was titled "Humidity Mass Transfer Analysis in Packed Powder Detergents" and was presented by Fabio Zonfrilli and his group from Procter & Gamble Research & Development in Santa Palomba, Italy. They used COMSOL Multiphysics to calculate the circumstances that lead to their powdered detergents to become instable. This information was then used to improve the protection of their packages throughout supply chain.
---
---
|
© 2017 by COMSOL Inc. All rights reserved