Top 5 Reasons to Attend the COMSOL Conference 2013
If you are following this space, you have probably heard us talk about the upcoming users' conference. Some of you might still be unsure of what this event is all about and what it can offer you, so we've put together a "Top 5″ list of reasons why you should attend the COMSOL Conference 2013. The conference has a wide and varied range of offerings. Unlike a lot of conferences out there, you don't have to present a paper to attend ours (although we do still encourage it, of course). As a result, over the years, we have seen participants come to our conferences for a variety of needs.
So here they are, our Top 5 Reasons to Attend the COMSOL Conference 2013:
1. Get Training
Attend the users' conference to get multiphysics simulation training across application areas. Every year we include new minicourses in the program, and this time around you can choose from 20+ application areas — all under one roof! The courses aim to teach you how to use simulation tools for the application of your choice. The line-up includes both general and specialized courses. (Lists of course offerings are live on the respective conference webpages, see the links at the end of this blog post for the location nearest you). Additionally, COMSOL application engineers and developers are available throughout the conference to give tips and tricks to users on their own models, so bring your questions.
2. Meet Your Colleagues
The COMSOL Conference offers several avenues to interact with your colleagues from the industry. With poster sessions, award dinner, and cocktail receptions, there are many opportunities to connect with fellow users.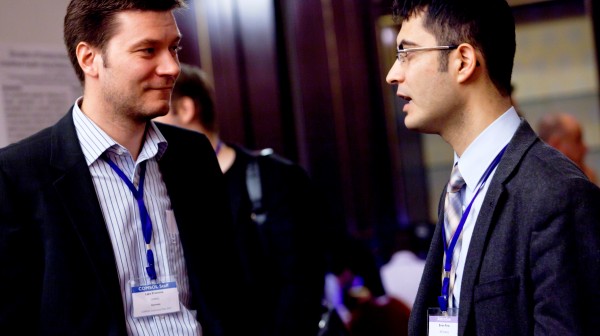 3. Have a First Look at New Tools
For all of us tech geeks — this is the big reason for attending the event. Each year COMSOL's CEO, Svante Littmarck, takes to the stage and unveils new developments. There is usually a mix of new tools that you can start using right away (at the conference), and a look ahead at what's in the making, to help you prepare for game-changing technologies. Don't miss out on this year's presentation.
4. Learn from COMSOL Users
Tap into the knowledge of simulation experts in the user presentations as they share their diverse insights and research findings. Each year, hundreds of users publish their work in the form of papers or posters. One of the highlights is the poster reception, which provides a unique showcase of "everything multiphysics" in a upbeat and informal setting.
5. Connect with Exhibitors
Extend your simulation resources by connecting with COMSOL Certified Consultants and software partners. Whether you are looking for a turn-key solution to a design problem, or interfacing products for technical computing, CAD, or hardware, chances are you will find them here.
How to Register for the COMSOL Conference 2013
In short, the COMSOL Conference can be an informative and, at the same time, an enjoyable experience. We will be making stops in Boston, Bangalore, and Rotterdam this year — find out more and register for the event closest to you on the appropriate conference page:
---